Frankfurt am Main, 16 August 2021
softgarden e-recruiting GmbH has acquired absence.io GmbH from Shore GmbH.
Ludwig & Co. acted as exclusive sell-side advisor for Shore.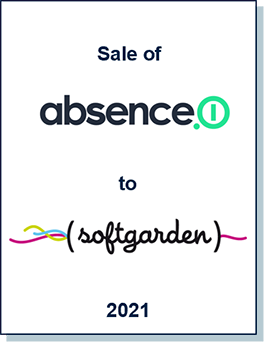 DEAL TEAM
Dr. Thomas Ludwig (Managing Director)
Hendrik Becker (Managing Director)
Fabian Büngers (Associate)
Artem Fey
About the Deal
Synergy effects for customers
All employees of absence.io will be taken over by softgarden in the course of the acquisition. softgarden CEO Mathias Heese will join the management of the new acquisition and will continue the business of the company as usual. For the customers of absence.io nothing will change for the time being, the same applies to softgarden customers. However, from now on the customers of both companies will optionally benefit from additional solutions that complement the previous offerings in a meaningful way.
Simple processes with maximum usability
"absence.io puts an end to complicated internal HR processes and fits very well to the culture of softgarden due to its simplicity", says Mathias Heese: "Like absence.io, softgarden stands for simple B2B processes with maximum usability. absence.io therefore perfectly complements the recruiting-oriented functions of softgarden with internal HR process solutions."
Ideal partner in the HR environment
"We are pleased to have found an ideal partner in the HR environment for absence.io in softgarden," says Nikbin Rohany, CEO of Shore: "Due to softgarden's proven HR expertise and good reputation in the HR community, the company offers ideal conditions for the future development of absence.io."
About absence.io
absence.io currently provides SaaS solutions for digital personnel files, absence management and time recording for around 2,200 mainly small and medium-sized companies.
Its customers include check24.de, Doodle and Red Bull. Since 2017, absence.io, founded in 2014, has been part of Shore GmbH. Shore offers digitization solutions for local service providers, retailers and craft businesses and has over 100,000 users internationally.

About softgarden
softgarden offers companies software solutions for modern recruiting. This enables employers of all sizes and from all industries to attract the best candidates. As a holistically designed Talent Acquisition Suite, softgarden includes offerings for applicant management (ATS), sourcing and employer branding.
Thanks to softgarden applicant management, employers shorten the duration of the application process by more than half. With the Career Site Pro, employers can create a convincing, conversion-oriented career site in no time at all. The Feedback Solution brings decisive advantages for the online reputation: Authentic evaluations of applicants and new employees can be automatically generated and made visible.
More than 1,500 renowned companies throughout Europe already count on the easy-to-implement cloud solution. In 2018, Investcorp Technology Partners invested in softgarden to accelerate investments in product development, organic growth and internationalization steps of the company.
About Ludwig & Co.
Ludwig & Co. is an independent, multiple award winning Corporate Finance Boutique. Its services include M&A, Restructuring, Debt- & Real Estate- Advisory as well as Capital Raises.