Frankfurt am Main, 16 Juni 2021
On June 14, 2021 Weiss IT Group, as a strategic investor, has acquired the Third-Party Maintenance activities from listed amalphi AG (AMI.DE, WKN 813 135).
Ludwig & Co. acted as exclusive sell-side advisor for amalphi AG.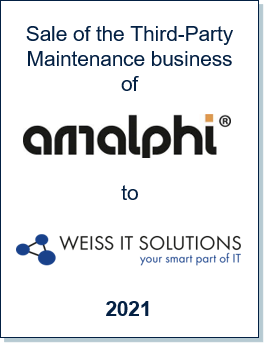 DEAL TEAM
Dr. Thomas Ludwig (Managing Director)
Fabian Büngers (Associate)
Artem Fey
Fabian Buengers (Analyst)

Weiss IT Group

With over 9,000 service locations, the Weiss IT Group is one of the leading managed service providers for medium-sized and large companies, especially in the industrial environment.
The group has 40 service branches and 15 warehouse locations spread across Germany, Austria and Poland.
Weiss IT is a suitable partner for amalphi due to its core business in the area of Managed Services & Industrial IT, as the business areas of both companies complement each other perfectly and enable synergies on several levels.

About amalphi AG
amalphi AG (AMI.DE, WKN 813 135) was founded in 2003 and acts as a management holding company with legally independent business units.
The overarching focus of amalphi's business units is to ensure the functionality of a company's IT infrastructure. In addition to the service & more IT competence GmbH, the subsidiaries include medondo AG and mindmaxx IT GmbH.
About Ludwig & Co.
Ludwig & Co. is an independent, multiple award winning Corporate Finance Boutique. Its services include M&A, Restructuring, Debt- & Real Estate- Advisory as well as Capital Raises.