Frankfurt am Main, 05 May 2021
Foxway has acquired the German recommerce specialist Flip4 GmbH ("FLIP4NEW").
Ludwig & Co. acted as exclusive financial advisor to the shareholders of FLIP4NEW.
The parties agreed not to disclose details of the transaction.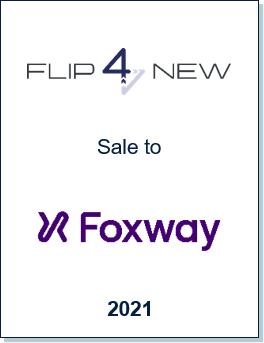 DEAL TEAM
Dr. Thomas Ludwig (Managing Director)
Anna Afanassiew (Managing Director)
Thomas Ruland (Director)
Fabian Büngers (Associate)
Fabian Buengers (Analyst)

About Foxway:
Foxway is one of the largest specialists in IT-lifecycle management in Northern Europe. The group has a turnover of EUR 300m in 2020 and employs more than 700 employees. Foxway has developed a market leading offering for mobile network operators, electronic retailers and distributors to utilize the benefits of electronic device trade-in as a core service to their customers. Foxway is now to enter the German market through the acquisition of FLIP4NEW. This is the next step in Foxway's strategy after the acquisition in Spain in the autumn of 2020.

About FLIP4NEW:
FLIP4NEW is one of the leading recommerce businesses in Germany with around 40 employees located close to Frankfurt.
FLIP4NEW has developed a strong recommerce market position in Germany. The company is sourcing a broad range of consumer electronics via its online presence www.flip4new.de as well as trade-in partnerships with leading electronic retailers in Germany and several other European countries. Hereby, FLIP4NEW has a state-of-the-art trade-in solution for retailers, mobile-phone operators and consumer electronic manufacturers to offer sustainable online and offline take-back solutions to their customers. In addition, FLIP4NEW is helping B2B customers to reduce business costs of their IT equipment. FLIP4NEW is reselling devices to end consumers via www.flip4shop.de and other marketplaces.

About Ludwig & Co.
Ludwig & Co. is an independent, multiple award winning Corporate Finance Boutique. Its services include M&A, Restructuring, Debt- & Real Estate- Advisory as well as Capital Raises.