Frankfurt am Main, 01 March 2023
Foxway has acquired Teqcycle Solutions GmbH, a leading German mobile trade-in company. The acquisition is an important step in Foxway's strategy to become the leading company within circular tech in Europe and beyond.
Ludwig & Co. acted as advisor for Foxway.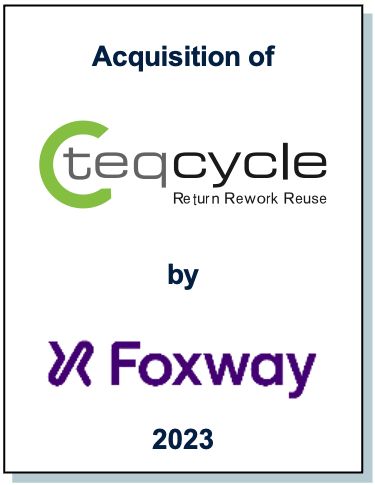 Deal Team
Dr. Thomas Ludwig (Managing Director)
About the Deal
During recent years, Foxway has experienced rapid annual organic growth of 20 % per year. The growth has been further accelerated from strategic acquisitions of companies in the tech industry. Foxway today employs more than 1,300 people with an annual turnover of over 700 MEUR.
Teqcycle procures used devices from multiple sources, routes them with a smart logic to the most promising resale channel. The company reported an annual turnover of 29 MEUR in 2022 and employs approximately 50 people. With Teqcycle Solutions ´s headquarter in Munich, Foxway strengthens its geographical footprint in Germany, and in the DACH area.
The growing need for "almost new" devices will create a shortage in Europe of the availability of reused smart phones. That makes it even more important to implement effective solutions to collect phones, extend their lifetime by value-add activities and make sure these are made available in the market to create true circular behavior. Teqcycle gives us an opportunity to strengthen our circular offers within the German market and thereby, with combined strength, provide sustainable services to customers and partners, says Martin Backman, Chief Executive Officer at Foxway.
Foxway's key focus is circular services such as trade-in solutions, device-as-a-service, grading, and value uplift. Teqcycle has a strong position within the recommerce business for mobile devices and has for many years been a key partner to vendors, operators and retailers with unique solutions to boost the circular economy.
With Teqcycle's leading market position in Germany, we are excited to contribute to Foxway's continued international expansion. Great teams at Foxway and Teqcycle who are equally passionate about circular solutions will now join forces. We look forward to further scaling our business as part of Foxway and adding value to the group and its customers", says Sebastian Neubeck, Chief Executive Officer at Teqcycle.
About Ludwig & Co.
Ludwig & Co. is an independent, multiple award winning Corporate Finance Boutique. Its services include M&A, Restructuring, Debt-Advisory as well as Capital Raises.