Frankfurt am Main, 04 February 2021
A group of investors acquired 100% of specialty chemicals producer Fluorchemie Group, including Fluorchemie Stulln GmbH, Fluorchemie Dohna GmbH, Phönix Fluß- & Schwerspat-Bergwerk GmbH and Mitteldeutsche Fluorit GmbH.
The parties agreed not to disclose details of the transaction.
Ludwig & Co. acted as buy-side advisor.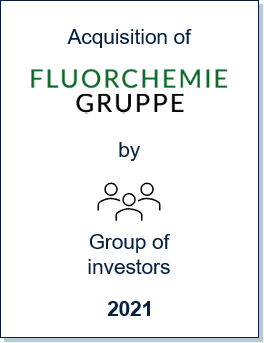 DEAL TEAM
Dr. Thomas Ludwig (Managing Director)
Hendrik Becker (Managing Director)
Fabian Büngers (Associate)

About Fluorchemie Group:
Fluorchemie Group is one of the leading manufacturers of hydrogen fluoride, hydrofluoric acid and calcium sulfate imagery. The Dohna site is one of the oldest hydrofluoric acid producers in Europe, producing hydrofluoric acid since 1903. After an eventful history and as the fluorine center of East Germany, the company has been privatized since 1990.
The Group employs approximately 160 people in various locations across Germany and generates revenues of approx. 45 million.
About Ludwig & Co.
Ludwig & Co. is an independent, multiple award winning Corporate Finance Boutique. Its services include M&A, Restructuring, Debt- & Real Estate- Advisory as well as Capital Raises.