Frankfurt am Main, 12 November 2018
The owners of Lucht Probst Associates GmbH ("LPA") sold their interest in the Company to Motive Partners, a global private equity firm focused on growth investing.
The parties agreed not to disclose details of the transaction. Press release can be found here
Ludwig & Co. acted as M&A advisor.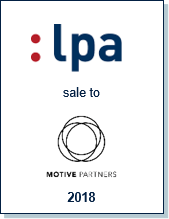 DEAL TEAM
Dr. Thomas Ludwig (Managing Director)
Hendrik Becker (Managing Director)
Thomas Ruland (Vice President)
Alexander Hix (Analyst)
Fabian Büngers (Analyst)
Fabian Buengers (Analyst)


About LPA
Lucht Probst Associates is a financial services provider with a focus on capital market activities, offering strategic advice, management and implementation services as well as a broad suite of software to optimize processes and regulatory compliance. Since 1999 LPA have focused on the global financial services industry and the firm's 200 employees combine high value consulting, professional services, produce and implement bespoke and standard software applications. With office locations in Frankfurt, Leipzig, Madrid, Barcelona and Singapore LPA are capable to meet clients' requirements internationally.


About Motive Partners
Motive Partners is a sector specialist investment firm that is focused on technology enabled companies that power the financial services industry. Based in New York and London and comprised of investors, operators and innovators, Motive Partners brings differentiated expertise, connectivity and capabilities to create long-term value in financial technology companies.


About Ludwig & Co.
Ludwig & Co. is one of the Top 10 Investment Banks in the German mid cap market.