Frankfurt am Main, 18 January 2018
Ludwig & Co. advised CK Corporate Finance – the acquisition vehicle of the Deistler Family Office – on its acquisition of the Hasseroeder and Diebels beer brands and associated breweries from AB InBev in two separate transactions.
The parties agreed not to disclose details of the transactions.
The transactions are expected to be completed in the first half of 2018. The closing is subject to the satisfactory completion of a number of conditions.
Ludwig & Co. acted as M&A advisor.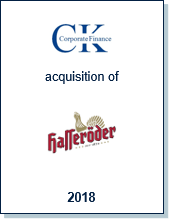 DEAL TEAM
Dr. Thomas Ludwig (Managing Director)
Hendrik Becker (Managing Director)
Thomas Ruland (Vice President)
Alexander Hix (Analyst)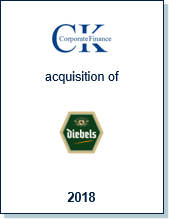 About CKCF
CK Corporate Finance (CKCF) is a family run investment company based in Kronberg, Hesse. The company is planning substantial investments in the acquired brands as well as the brewery sites. Thereby, CKCF pursues a focused brand strategy for Hasseroeder and Diebels with the intention to revive the long-established brands and to ensure sustainable growth and competitiveness.


About Anheuser-Busch InBev
Anheuser-Busch InBev is based in Leuven (Belgium) with about 200,000 employees across more than 50 countries worldwide. In 2016, the world's leading brewery generated revenues of US$45.5bn. In Germany the company is present with its well-known brands such as Beck's, Franziskaner or Corona und employs approx. 2,300 people at its four facilities (Bremen, Munich, Wernigerode, Issum).


About Hasseröder
Founded in 1872, Hasseroeder is the most consumed beer brand in the Eastern part of Germany. Producing more than two million hectolitres each year, mostly Pilsner, the company is one of the three biggest Pilsner beer producers in Germany.


About Diebels
Diebels is based in Issum. Founded in 1878, the firm was acquired by Belgian Interbrew Group, now AB InBev, in 2001. In 2016, Diebels produced 350,000hl of beer. The brewery is known for its Altbier, a dark copper coloured, top-fermented beer, being the market leader in this segment.