Frankfurt am Main, 6 July 2018
The owners of Agrartest GmbH sold their interest in the Company to Eurofins Agroscience Services Germany Holding GmbH – part of Eurofins Scientific S.A.
The parties agreed not to disclose details of the transaction. The transaction closed 2 July 2018.
Ludwig & Co. acted as M&A advisor.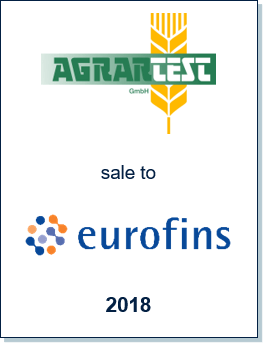 DEAL TEAM
Dr. Thomas Ludwig (Managing Director)
Hendrik Becker (Managing Director)
Thomas Ruland (Vice President)
Alexander Hix (Analyst)

About Agrartest
Agrartest is one of the leading service providers in the field of agricultural field studies in Germany. Founded in 1989 by Hans-Werner Scherf, the company continuously expanded and added locations and facilities across Germany.
Its headquarter is located in Aarbergen-Panrod (Rheingau-Taunus County)
Agrartest operates 10 testing facilities with a total of more than 70,000 plots across Germany and currently has around 40 employees as well as some temporary staff.


About Eurofins Agroscience Services
Eurofins Agroscience Services is a division of Eurofins Scientific S.A. Within the Agroscience division, the technical activities involve conducting field and laboratory studies to determine the safety and efficacy of new agrochemicals and crop varieties.
With over 25 years of experience in the crop protection industry, Eurofins Agroscience Services offers outstanding technical knowledge and project management skills. The service offering is continuously developed by knowledge transfer initiatives between the Group's various centres of expertise across the globe.
By acquiring a carefully selected range of CRO's, Eurofins Agroscience Services has created a unique portfolio of expertise that provides analytical, regulatory and field support to plant breeders, agrochemical, biopesticide, biocide and fine chemical manufacturers.
This suite of services operates at a range of levels on a global basis.


About Ludwig & Co.
Ludwig & Co. is one of the Top 10 Investment Banks in the German mid cap market.