Frankfurt am Main, 08 April 2020
On April 6, 2020 Recticel SA announced that it has entered into a binding agreement to bring its Automotive Interiors business in a new joint venture under the control of Munich-based privately owned investment company Admetos GmbH.
Ludwig & Co. advised Admetos on the transaction.

More details with respect to the transaction can be found here.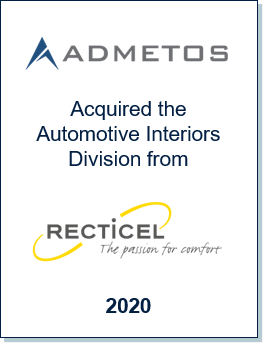 DEAL TEAM
Dr. Thomas Ludwig (Managing Director)
Hendrik Becker (Managing Director)
Fabian Büngers (Analyst)
Fabian Buengers (Analyst)

About Automotive Interiors division:
The Automotive Interiors division develops and produces high-quality interior trim materials in light-stable material for the benefit of Tier 1 and OEM automotive manufacturers. This patented polyurethane-based technology – branded Colo-Fast® and Colo-Sense® Lite spray – offers absolute design freedom, excellent aging and scratch resistance characteristics, while weighing 40% less than comparable traditional thermoplastics. The Automotive Interiors division employs 1,400 people, is globally present across 11 production sites located in China (5), the Czech Republic (2), Germany (2) and the United States (2) supported by central functions located in Belgium and Germany. In 2019, Automotive Interiors realized sales of EUR 183.5 million.
About Admetos:
Admetos is an independent investment company for the mid cap sector. It invests equity exclusively in medium-sized companies in special situations with potential for value growth.
About Recticel:
Recticel SA is a publicly listed company headquartered in Belgium and engages in manufacturing and selling of plastics, polymers, synthetic components, and polyurethane foam products. It operates through the following segments: Automotive, Bedding, Flexible Foams, Insulation, and Corporate.
About Ludwig & Co.
Ludwig & Co. is one of the Top 10 Investment Banks in the German mid cap market. Its services include M&A, Restructuring, Debt Advisory and Capital Raises.